The NAGASE Group's Growth Strategy
Holding the Key to Growth through NAGASE's Biotechnology
Evolving Into "NAGASE, the Biotechnology Company" Based on the Keywords of Microorganisms, Enzymes, and Fermentation
Through unique biotechnology that goes beyond the boundaries of a trading company, the NAGASE Group aims to provide technology value that other companies cannot match. The Group is working to develop sustainable new materials that are needed in these times by bringing together the biotechnologies of each Group company.
In response to rising social demands for environmentally responsible manufacturing, interest is growing in biotechnologies, which enable environmentally friendly production processes by producing useful materials through natural living things such as plants and microorganisms. Biotechnology is a technology that uses the functions of living things in everyday life. Biotechnology-based products and services are being developed in a variety of fields, including health foods, cosmetics, pharmaceutical ingredients, and chemicals.
Concept Map of Joint Development with the Hitachi Group

Striving for Efficient Production of Useful Materials by Bringing Together Each Group Company's Biotechnologies
In April 2021, the NAGASE Group established the NAGASE Biotech Office as an organization that spans the whole Group, bringing together biotechnologies. The NAGASE Biotech Office collaborates closely with the Nagase Bio-Innovation Center (formerly the Nagase R&D Center), which is responsible for research and development (R&D) functions at NAGASE & CO., LTD., and Group companies Hayashibara Co., Ltd. and Nagase ChemteX Corporation. The NAGASE Biotech Office is focusing on R&D for new materials that apply synthetic biology, which aims to produce rare, useful materials more efficiently. The NAGASE Group's strengths are its ability to approach customer needs from a variety of technical perspectives because it understands fermentation and enzyme technologies, which are essential to microorganism-based bioprocesses, as well as its ability to cover a broad range of areas, from R&D to manufacturing and sales.
In addition, as biotechnologies and digital technologies have advanced in the last few years, next-generation bioproduction technology has attracted growing interest. Next-generation bioproduction technology uses smart cell technology (a biosynthesis technology that artificially maximizes the substance production capability of cells) to bring out previously unusable, potential functions of living cells. For example, ergothioneine (EGT), a rare natural amino acid found in organisms such as mushrooms, is thought to have excellent antioxidant properties and high anti-aging effectiveness. Potential applications are expected in a variety of fields including food products, cosmetics, and medicine. However, because EGT is only found in trace amounts in mushrooms, production has been difficult. Extraction methods for EGT from natural materials take time and effort and organic synthesis of EGT has a significant environmental impact. In 2015, NAGASE & CO., LTD. began developing an environmentally friendly bioproduction process that could provide a stable supply of EGT via fermentation using microorganisms. Due partly to these efforts, the Company succeeded in using smart cell technology to increase EGT productivity by a factor of approximately 1,000 when compared to conventional levels.
Start of Smart Cell-Based Joint Development with the Hitachi Group
Furthermore, in April 2022, NAGASE & CO., LTD. started joint development with Hitachi, Ltd. and Hitachi Plant Services Co., Ltd. on the commercialization of smart cell-based production processes for EGT and other useful materials. Hitachi, Ltd. has cell culture simulation technology and data analytics technology, while Hitachi Plant Services Co., Ltd. has engineering technologies for the design and construction of large-scale cell culture plants and the scaling up of production facilities. This joint development is expected to enable further scale-up and commercialization of production processes, which are essential to the industrialization of useful substances, by utilizing and integrating the experiences and expertise developed by the Hitachi Group to date.
The NAGASE Group will continue working to bring together biotechnologies within the Group and to solve social issues. Moreover, the Group will strengthen its presence as "NAGASE, the biotechnology company" both by reducing the environmental impact and increasing the efficiency of the production of useful materials. In doing so, the Group will contribute to the creation of a sustainable world where people live with peace of mind.
Nagase Bio-Innovation Center (formerly the Nagase R&D Center)
Develop Research Themes That Can Contribute to Society from a Macro Perspective
The Nagase R&D Center was established in 1990 and has conducted fundamental research for the NAGASE Group, mainly in the fields of genetic engineering, enzyme engineering, and metabolic engineering. In April 2022, the Nagase R&D Center was renamed the Nagase Bio-Innovation Center to promote bio-innovation across the Group.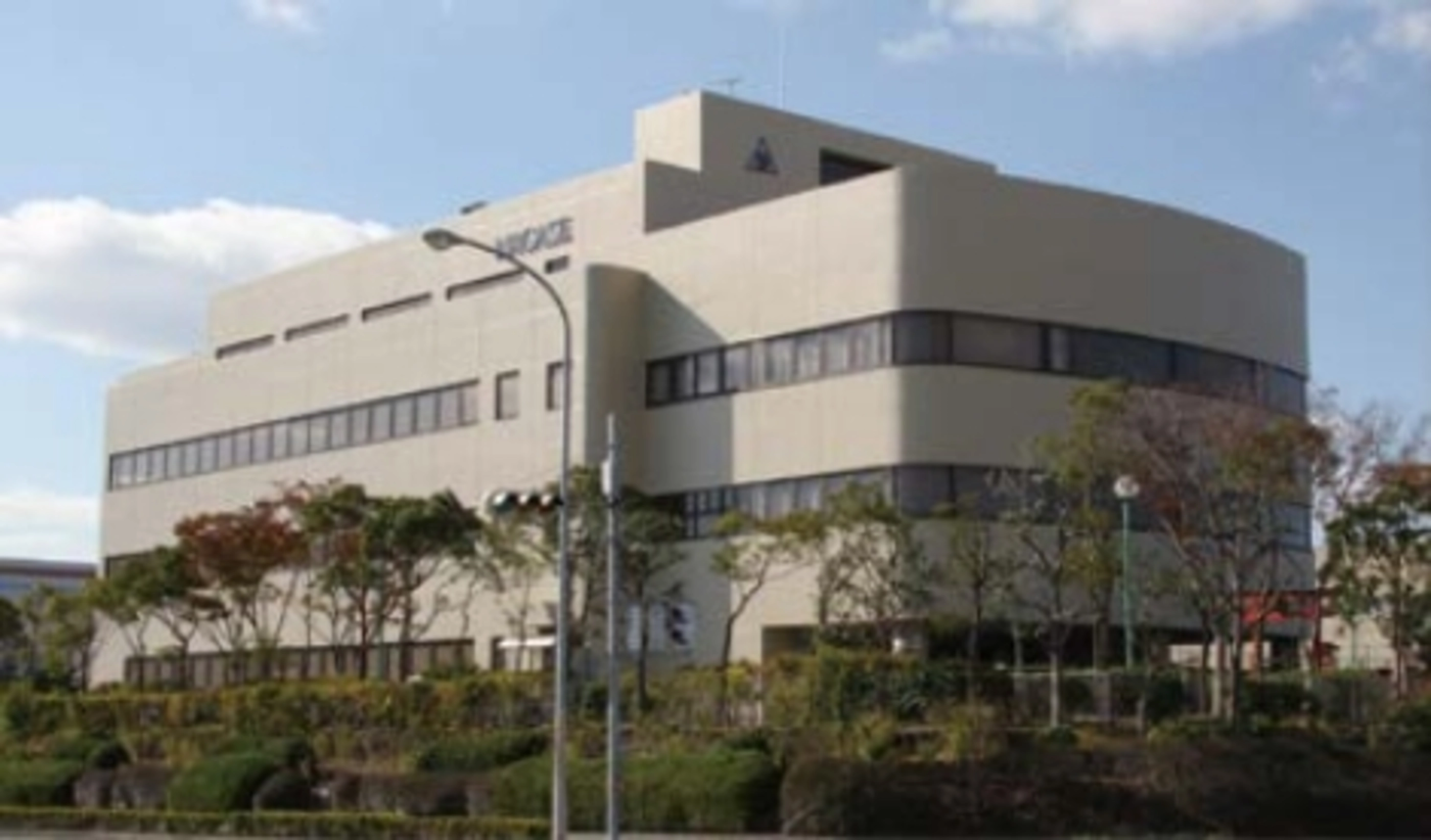 The Nagase Bio-Innovation Center's basic principle is "Unavailable Made Available & Sustainable Way." Through R&D in the biotechnology field, the center aims to create new value that leads to social contributions such as people's health issues and solving environmental problems. The center's mission is to achieve innovation using biotechnologies. For example, the center owns many unique technologies in materials production that use actinomycetes as a host.
Furthermore, the center collaborates with around 150 researchers from various Group companies to promote the NAGASE Group's bio-related businesses from the research stage. It is working to develop new enzymes and biochemicals through the use of the center's technologies, as well as the marketing capabilities of each organization, and the product development capabilities and manufacturing functions of Hayashibara Co., Ltd. and Nagase ChemteX Corporation.
Striving to Create New Businesses by Integrating Market Needs and R&D Seeds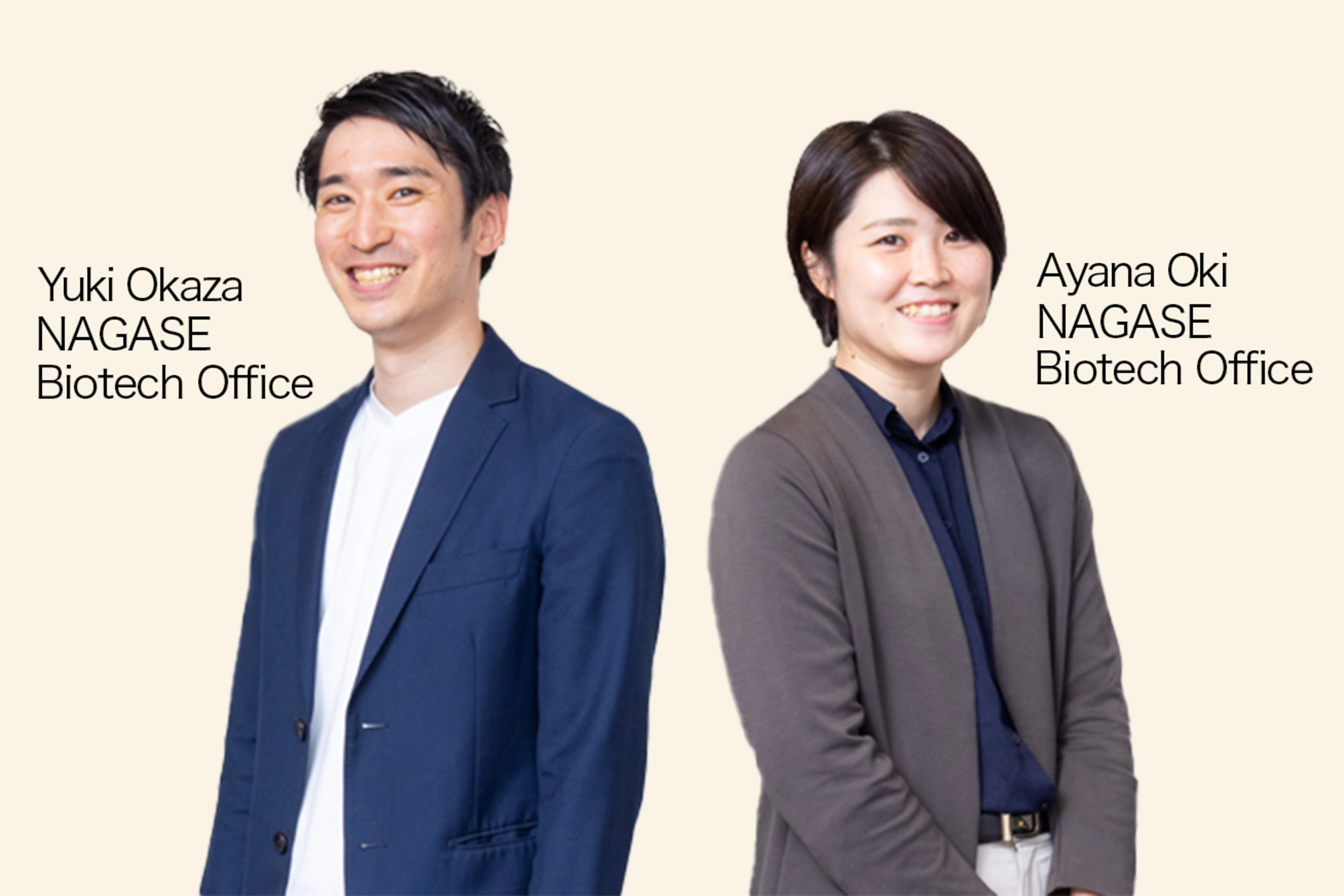 What are NAGASE's strengths in biotechnology?
NAGASE's strengths include the ability to manufacture using three different technologies: microorganism, enzyme and fermentation. Many companies can manufacture using one of these technologies, but I believe NAGASE is highly unique in that it has three technology options for manufacturing. Another point that distinguishes NAGASE from other companies is that despite being a trading company, it has manufacturing and R&D sites.

Nagase Bio-Innovation Center has microorganism design technologies, Hayashibara Co., Ltd. has enzyme screening and functional carbohydrate production technology, Nagase ChemteX Corporation has industrial enzyme production technology, and our salesforce has proposal skills. I believe that NAGASE's strength in biotechnology is that by working as one Group, it can consistently follow through operations, from designing targeted materials so that they can be efficiently produced with microorganisms, to mass producing those materials, developing applications for them and selling them.
Which technologies are you focused on?
I'm focused particularly on microorganism design technologies. We are currently preparing to launch NAGASE's EGT in the market. This is one example where NAGASE was able to use its technology to improve productivity by a factor of around 1,000. The production of materials with microorganisms has also attracted growing interest in the past few years because of its environmentally friendliness.
I'm focused on genetic engineering. I used genome editing technology to conduct research as a university student. With this background, I'm particularly interested in advances in gene manipulation technology. We created a metabolic map for EGT and manufactured it with microorganisms designed to reduce the number of cell culture days and achieve high efficiency. As a result, I'm hopeful that we will be able to produce many more products like this in the future.
What is your outlook for the future?
The Group will make a concerted effort to provide the materials and value that the market requires, while leveraging NAGASE's foundational biotechnologies. Manufacturing methods with a high environmental impact, as well as the manufacturing of items such as petrochemical products, will be replaced in the future by bioprocesses. By doing so, we aim to establish ourselves as the "NAGASE Group that contributes to environmentally friendly manufacturing" and to realize "Green it!" which is this year's theme for the NAGASE Group.
Based on the keywords of microorganisms, enzymes, and fermentation, I would like to work on developing new businesses by integrating market needs and R&D seeds. Going beyond the traditional boundaries of a chemicals trading firm, we will accelerate our activities in order to be known as "NAGASE, the biotechnology company" in 10 or 20 years.